Image above is courtesy of North Carolina State University's "This is What Science Looks Like" initiative.
It is not too late this year for diverse high school and enrolled college students to apply for STEM-related, and other scholarships ranging from $500 to $10,000, and full tuition.
Get ahead on honing your application by knowing when next the 2018-2019 STEM scholarship applications are available.
The scholarships below include those offered by organizations looking specifically for black, Hispanic, Native American and Pacific Islanders, and women of all backgrounds.
AISES – American Indian Science and Engineering Society
To receive news of upcoming AISES scholarship opportunities, sign-up for the organization's monthly newsletter here.
Deadlines for multiple AISES scholarships have closed. The 2017-2018 AISES scholarships included those from :
Entertainment Software Association (ESA) Foundation
The ESA scholarship program is designed for women and minority students graduating from high school or enrolled in a full-time undergraduate program to pursue degrees leading to careers in computer and video game arts.
For more information, click here.
Deadline for 2017-2018 application: April 1, 2017
Google Lime Scholarship Program
Google offers $10,000 scholarships and networking retreats for computer science or computer engineering students with disabilities.
Candidates will also be considered for software engineering internship opportunities with Google.
Scholarships are awarded based on the strength of candidates' academic record and demonstrated passion for computer science
Selected students will be invited to attend the annual Google Scholars' Retreat at the Googleplex in Mountain View, California.
To apply, log into, or join, click The Lime Network​​.
Visit the site for details about the 2018-2019 Google Lime scholarships.
GMIS has scholarships, ranging in amount from $500 to $10,000, for college students of Hispanic descent. The GMIS goals are to ensure STEM college retention with at least a 3.0 grade point average; to guarantee graduation with an undergraduate technical degree in four-five years; and to assist Hispanic communities by producing STEM role models and maintaining the US world lead in science and technology.
HENAAC Scholars Program offers three scholarships types: Corporate/Government Sponsored, Special Recognition, and In Memoriam and Personal Tribute. Click here for more information on the scholarships.
Application opened for the 2017-18 scholarship: January 2017.
Deadline for the 2017-2018 application: April 30, 2017.
Xerox Technical Minority Scholarship
Worth from $1,000 to $10,000 for minority students in a technical or engineering field. For more information about careers, email GlobalCareers@Xerox.com or call Xerox at 1-877-747-3625. Visit the Xerox Technical web site for details on the 2018-2019 scholarships.
Deadline for 2018-2019 scholarship application: September 30, 2017.
The NACME Scholars (Block Grant) program has distributed over $4 million annually through block grants to partner institutions and as individual awards. For African-American, Latino or American Indian seniors in a pre-college program or current college students pursuing degrees in STEM.
Eligibility for the NACME Scholars Program requires student be enrolled in an engineering program at a partner university, be an underrepresented minority, and maintain a minimum required GPA (from 2.5 – 2.8).
For more details: contact Dr. Chris Smith, Director, Scholarships and University Relations, at 914-539-4316, or email at  scholars@nacme.org.
For Fellowships, GPA requirements differ according to the fellowship. Click here for details about underrepresented minority scholarships and other scholarship programs for minorities.
For Fellowship details, contact Dr. Chris Smith, Director, Scholarships and University Relations, at 914-539-4316, or email at scholars@nacme.org. For specific information on how to establish a fellowship e-mail, scholarships@nacme.org.
National Society of Black Engineers
Enrolled students must join NSBE to participate in the scholarship program. Go here for the details, below.
Once you are signed in to your account, you will only see scholarships that meet your eligibility. To view the application, make sure the following fields are complete on your profile: education level, major, citizenship status, and verified GPA.
Deadline for the 18-19 scholarship: December 31, 2017.
Deadlines, Below, Are For Scholarships also in 2017

United Negro College Fund (UNCF)
It is the nation's largest private scholarship provider to minority group members. UNCF awards over $100 million in scholarships to over 10,000 students at more than 1,100 schools nationwide annually, and includes NACME's prestigious network of of 37 HBCUs.
Enrolled STEM students must apply for The Fund II Foundation UNCF STEM Scholars Program by February 23, 2017.
The UNCF also manages the Walton-UNCF K-12 Education Fellowship and the UNCF/Koch Scholars Program. They have their own eligibility criteria, application requirements and deadlines.
TheUNCF Scholarships may require that students apply for financial aid done by completing the Free Application for Federal Student Aid (FAFSA).
Hispanic Scholarship Fund (HSF)
The HSF motto is "A Diploma is Forever." The fund, empowers Latino families to help their students to achieve a higher education degree. The fund has awarded over $500 million in scholarships.
Eligible students include high school seniors, community college transfer students, undergraduate students, and graduate students.
Deadline for 2017-2018 scholarship: March 30, 2017.

This scholarship, for promising African American seniors, was not created specifically for students in science and technology. Scholars receive $10,000 for four years annually to pursue the degree of their choice at their choice of US colleges. Since 1996, there have been more than 300 Ron Brown scholars. To apply, click here.
Deadline for early applicants: Nov. 1, 2017
Final postmark deadline: Jan. 9, 2018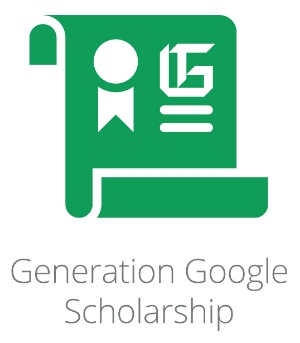 The Generation Google Scholarship
This scholarship is for aspiring computing and tech scholars who are African American, Hispanic, American Indian, or Filipino/Native Hawaiian/Pacific Islander. Scholarships are for current high school seniors, undergraduates, or graduate students. Matriculating recipients attend Google's Computer Science Summer Institute; other recipients may attend if they choose.
To apply, click here. Deadline: Dec. 1, 2017
The National Institutes of Health Undergraduate Scholarship
Up to $20,000, renewable for four years, and for disadvantaged students pursuing biomedical, behavioral and social science health-related research.
Scholarship support
Paid research training at the NIH during the summer
Paid employment and training at the NIH after graduation
Application Opens: January 3, 2017 –
Application Deadline: March 14, 2017
The 2018-2019 Scholarships, Below, Have 2017 Deadlines

Microsoft provides one-year tuition scholarships for students interested in computer science and related STEM disciplines. The Microsoft website says, "We prioritize scholarship applications that demonstrate exceptional leadership work in the promotion of diversity in STEM disciplines at their universities." For more information, go here.
Application available: October 2017
Deadline for 2017-2018 school year: January 2018
RMHC/HACER National Scholarship
Ronald McDonald House Charities (RMHC) offers a four-year renewable scholarship to students with at least one Hispanic parent. Scholarships are not specific to students seeking a technology degree. All applicants are eligible for a local RMHC/HACER scholarship of more than $1,000.
RMHC also has scholarships for Asian Americans, and African Americans. For details, click here.
Application opens: October 2017
Application Deadline for 2017-2018: January 2018
Scholarships For Women

Society of Women Engineers (SWE) Scholarships: The SWE Scholarship Program provides financial assistance to women studying baccalaureate or graduate programs, in preparation for careers in engineering, engineering technology, and computer science.
In 2016, SWE awarded approximately 230 new and renewed scholarships valued at over $750,000. For SWE application information, visit here often, or call 1.877.793.4636.
Women Techmakers Scholars Program
This program was called the Google Anita Borg Memorial Scholarship. The initiative was created in honor of computer scientist, Anita Borg.
She was the founder of the Institute for Women and Technology. Google awards $10,000 to students of computer science or computer engineering. Scholars receive:
An academic scholarship
Attend a retreat with fellow scholars and Google mentors
Join an online network with fellow scholars to "support the global community of women in tech and collaborate on projects to make continued impact."
To access the Google online application page, click here:
Deadline for application for 2018-2019: December 2017