Above, Metro Vancouver wastewater treatment sludge dewatered prior to conversion to biocrude oil at Pacific Northwest National Laboratory.
Every American Can Make Gallons of Biocrude Annually
Alchemy, the false notion about the supposed transformation of matter, and particularly base metals into gold, never worked and never will.
But researchers in the Chemical and Biological Process Development Group at the Pacific Northwest National Laboratory (PNNL) have a novel idea to transform something worthless and pungent. That is sewage into biocrude oil.
[Watch From the Toilet to the Tank – Biofuels from Sewage]
How? Researchers use intense pressure and high temperatures to hyper-speed a process that took nature millions of years to do. They create something like oil combined with some water and oxygen.
PNNL says the resulting biocrude can then be refined for use by  conventional petroleum refining operations. Currently, "Wastewater treatment plants across the U.S. treat approximately 34 billion gallons of sewage every day. That amount could produce the equivalent of up to approximately 30 million barrels of oil per year. PNNL estimates that a single person could generate two to three gallons of biocrude per year."
The Pacific Northwest National Laboratory is a division of the US Department of Energy and is operated by Battelle. It is the largest nonprofit R&D group with employees at over 60 locations globally.
Diverse Chemical and Biological Process Development Group members: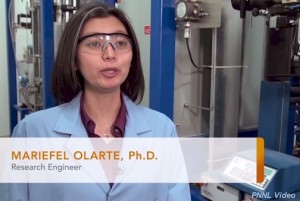 Olarte has worked on the catalytic conversion of biomass to renewable fuels and chemicals. Her PhD in Chemical Engineering is from Georgia Institute of Technology, and her MS in Paper Science and Engineering is from the same university. She received her BS in Chemical Engineering from the University of the Philippines Los Baños.
Lee works on developing catalysts to stabilize and upgrade bio-oil. She earned her PhD and MS degrees from the University of Idaho. The former in Inorganic Chemistry, and the latter in Environmental Science. Her BA in Interdisciplinary Studies is from the University of Missouri-Columbia.
Deng uses filamentous fungi to convert renewable biomass to fuels, chemicals and enzymes, and works on the discovery of genes important for biosynthetic pathways. Her PhD in Biochemistry and Molecular Genetics is from the University of Alabama at Birmingham. Her MS in Clinical Pharmacology is from Sun Yat-sen University, and her BS in Clinical Medicine from Zhengzhou University