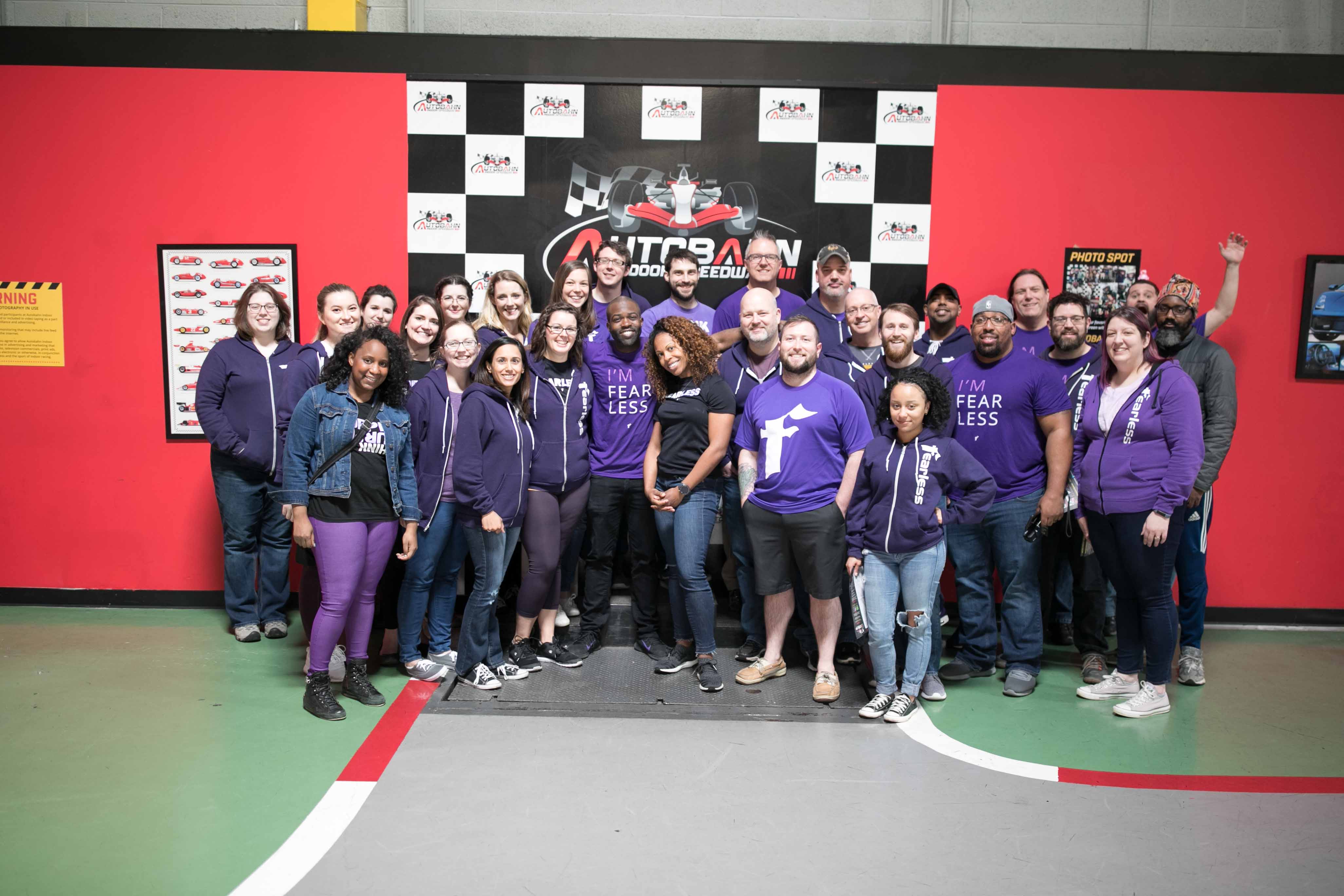 Above, the Fearless team in 2018 on its annual Hooky day.
Photo: Andre Sturdivant (understandthevision.com)
–
A Greater Baltimore STEM Gallery
Baltimore-Linked Firms Get Key Fed Contract
Fearless Solutions LLC, a Baltimore digital services firm, and Ad Hoc, a Maryland software design/engineering shop, landed a major deal recently.
The US General Services Administration chose them to upgrade Search.gov, the Federal search engine's ability to find relevant agency data.
The Fearless portfolio includes redesigning the US Small Business Administration's SBA.gov site; creating the Baltimore City Health Department's health trend dashboard; and building an open source site, for use to assist New York Harbor's Billion Oyster Project.
At Fearless and Ad Hoc hiring diverse talent is the norm
 STEMRules (SR) lauds firms hiring talented women and men, of all races, gender identification, ethnicities, religions and national origins. Fearless is over 44% female, over 36% minority and over 35% live in HUBZones.
SR spotlights STEM professionals from underrepresented groups as role models for STEM students of similar backgrounds. Note: Some Fearless personnel may now be in new positions or elsewhere.
Fearless: a herd of talented purple cows
 Watch Fearless is Now 50+ Strong and Growing
 Delali Dzirasa
Fearless president, Delali Dzirasa, founded his firm in 2009, but "Like many stories at Fearless," his starts at the University of Maryland, Baltimore County (UMBC). Follow Dzirasa on Twitter @DelaliDzirasa.
Dzirasa's parents are from Ghana, and two of his brothers preceded him at UMBC, where Delali earned a 2004 BS in Computer Engineering. In 2009, he opened his office in bwtech@UMBC, an incubator. Fearless is now located in Spark Baltimore, an Inner Harbor, coworking space.
Openings at Fearless or Pitch Your Position
Purple cows became the Fearless mascots because, quoting author Seth Godin, first and then quoting Dzirasa, "In a world of brown cows, a purple cow stands out," and "there are plenty of brown cow web shops."
Dzirasa has a social conscience.
Dzirasa was a 2018 member of the Greater Baltimore Committee's Leadership program. It, since 1983, been committed to "helping develop more effective civic leaders in the Baltimore region."
The same year, he launched a retail store to build software tools for public agencies. This year, some of that revenue will help support three Baltimore youth empowerment programs: Code in the Schools computer science education program, I AM O'KAH! and Dent Education's maker and creative problem-solving initiatives.
See how STEMRules covered Code in the Schools life-saving idea
Letitia Dzirasa, MD
In March 2019, Dzirasa, a pediatrician, became the the Commissioner of the Baltimore City Health Department.  Dzirasa was the Health Innovation Officer at Fearless.Previously, she was also a Medical Director of Quality at the Baltimore Medical System.
She received her BS in Biology from the University of Maryland Baltimore County, her MD from historically-black Meharry Medical College, and her Master's Degree in Health/Health Care Administration/Management from the University of Baltimore. She volunteered after the Haitian earthquake.
John Foster
Foster is a Fearless Partner and Director of Programs. The software engineer earned his MS in Computer Engineering at the University of Maryland Baltimore County, an MS in Computer Science at the University of Pittsburgh and an MBA from Loyola University of Maryland.
He had worked at architectural security provider, Ross Technology, and the global professional services firms Deloitte and Accenture. Foster was a student in the renowned UMBC Meyerhoff Scholars Program.
See the STEMRules story about how the Meyerhoff STEM Program Rules
Stephanie Baggage
Baggage is the Program Manager at Fearless. The Morgan State University graduate worked previously at a Department of Defense (DoD) contractor, the IRS, and DoD. She received her BS in Information Systems and Science from Morgan State.
Since 2019, Baggage has used her time and talent as a volunteer at Calvary Women's Service. It "empowers homeless women in Washington, DC."
Aaron Brooks
Brooks is a Development Operations Engineer at Fearless. He has worked in the IT sector and is an Amazon Web Services Certified Developer. His BS in Information Systems is from the University of Maryland Baltimore County.
Candace Campbell
Campbell is a Software Test Intern at Fearless. The computer science major at the University of Maryland Baltimore County will graduate in 2019.
Alex de los Reyes
Reyes is a Software Test Engineer at Fearless, with nearly 20 years  experience, at firms including Verizon where he spent 12 years and four at Columbia, MD's Connection Education, a virtual education firm. Follow Reyes @cyber_decker.
Felix Gilbert
Gilbert is a Project Manager in operations at Fearless, and has a design firm on the side. He studied Computer Information Systems at Pima Community College and Digital Arts at Metropolitan State University in Denver.
Holly Patel
Patel, the Fearless Finance Manager is an OPC , an Original Purple Cow, as  she joined the company as a finance intern in 2011. Patel is also another graduate of the University of Maryland Baltimore County, where she received her BS in Financial Economics and Accounting.
In 2017, she picked up her MBA, Enterprise Risk Management and Real Estate, from The Johns Hopkins University – Carey Business School.
About the author:
Frank McCoy is Executive Producer of STEMRules.com. It is an online STEM news platform providing original and curated content about black, Hispanic, Native American, Eskimo, Inuit, Pacific Islander, Native Hawaiian, and women and women of color STEM students, STEM professionals, and the public, private, and non-profit groups that attract and hire them. STEM Rules is a subsidiary of STEM Media LLC™.  Our About Us is here.
I am the former Editor-in-Chief of Hispanic Engineer & Information Technology, Black Engineer & Information Technology, and Women of Color & Information Technology magazines, Executive Producer of AOL Money & Finance, Senior Editor at Black Enterprise, edited US News & World Report's website, a BusinessWeek Staff Editor, and a contributor to AOL Latino, AOL Black Voices, Hispanic Business magazine and TheRoot.com.