Above, HBCU and HSI students in the Google Tech Exchange Program
A Baltimore STEM Story +
The Morgan State University (MSU) quintet, above, and 60 other students are in Google's Tech Exchange Program. It selected rising juniors and seniors from seven Historically Black Colleges and Universities (HBCUs), and from four Hispanic-Serving Institutions (HSIs) to participate in the 201/2019 academic year residency at Google headquarters. Five faculty members from HBCUs and HSIs have also been invited.
Watch video about Google's HBCU/Latinx Tech Exchange Program
The impetus to diversify is clear
Google's 2018 annual report stated that today women are 30.9% of its global workforce, and men 69.1%.2 Only 2.5% are Black; 3.6% is Hispanic/Latinx; 3 36.3% is Asian; 4.2% is multiracial (two or more races); 0.3% are Native American,4 Alaska Native, Native Hawaiian or Pacific Islander; and, 53.1% is White. From 2017 to 2018, Black, and Latinx Googler representation grew by 0.1% for each group.
View the STEMRules list of HBCU Engineering Programs
The HBCU schools in the Google Exchange program are Spelman College, Howard University, Florida A&M University, Morgan State, Prairie View A&M University, North Carolina A&T State University, and Dillard University.
–
Below, from left: New Mexico State University Deputy Provost Greg Fant and students Arianna Martinez, Vensan Cabardo, Kay Sweebe, Marco Salazar and Jacob Espinoza. (Photo: Google)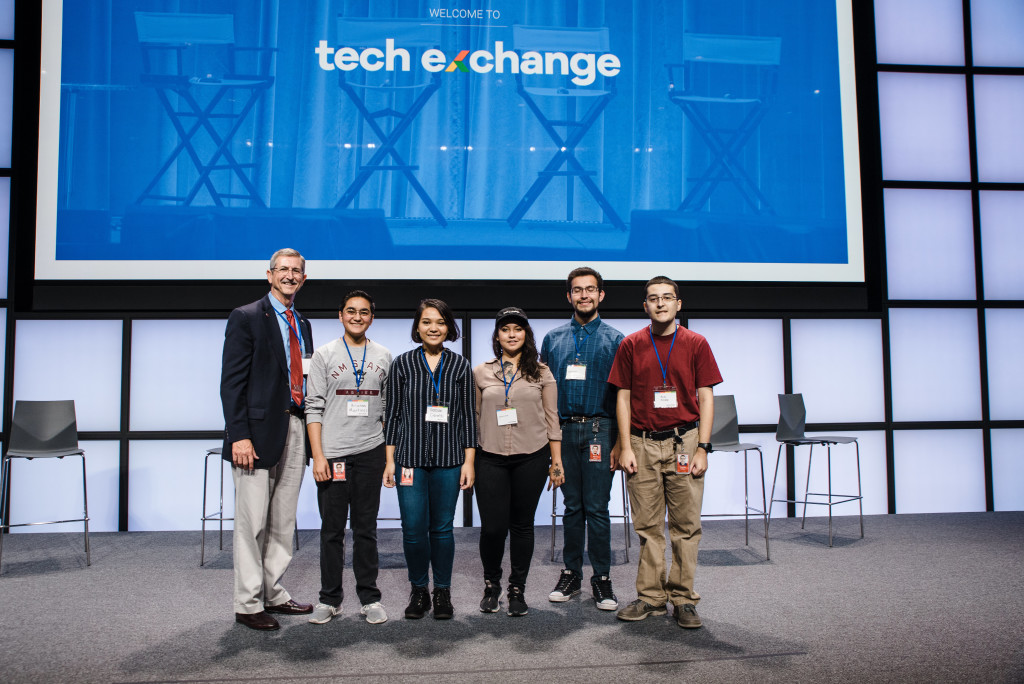 Visit STEMRules Top Schools for Latino STEM Graduates List
The HSI schools participating in the Tech Exchange are California State University Dominguez Hills, University of Texas-El Paso, University of Puerto Rico-Mayaguez, and New Mexico State University.
Morgan State President David Wilson praised Google for seeing "the value that Morgan and other HBCUs and HSIs: bring to the innovation and technology space."

Google is committed to building a diverse and representative company reflecting  its users," said Danielle Brown, Google vice president of employee engagement, Chief Diversity and Inclusion officer. "That's why, as part of our strategy, we are continuing to hire and invest in the talent of tomorrow."
April Alvarez, Google's educational equity programs manager added, "To have Black and Latinx students at the Googleplex will move the needle on representation. But I'm excited to see what happens when Silicon Valley culture converges with the genius and talent coming out of HBCUs and HSIs."
Tech Exchange Program history, classes and internships
Students have their own workspace, receive a stipend and "full access to Google resources, from gyms to micro-kitchens to Gbikes."
Danielle Brown lauded 2017''s first Google and Howard University pilot tech, known as Howard West, exchange with 26 students in a three-month 12-credit computer science program. Subjects taught included Fundamentals of Algorithms, Software Engineering, Machine Learning, Technical Interview Prep and Intro to Mobile Applications. When the program ended, it was reported that "half of the students found internships at Google or other tech companies."
Bonita Stewart, A Howard University alumnus, and Google's vice president of global partnerships, worked with Howard University President Wayne Frederick to develop the framework for Howard West. This year Howard University sends 29 students to the Exchange Program.
Below, Florida A&M University computer science students at Google Tech Exchange with their dean and other faculty. Photo: Google
Thanks to HBCU Digest for its reporting on this story.