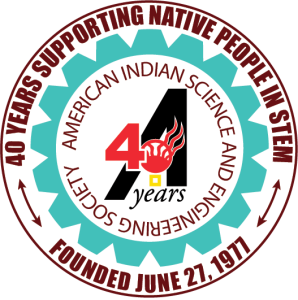 Today, we celebrate and commemorate the 40 years the American Indian Science and Engineering Society (AISES) has focused on increasing American Indian, Alaska Native, Hawai'ian, Pacific Islander, First Nation and other indigenous peoples participation and leadership in STEM studies and careers.
Sarah EchoHawk, (Pawnee) the CEO of AISES, says the group's "job is to highlight opportunities and careers in STEM, and frame STEM as a door opener to a challenging, yet exciting and fulfilling career."
Watch the 2017 AISES Leadership Summit video.
Note: From Sept. 21-23, the 2017 AISES national conference, the largest gathering of Indigenous STEM students and professionals was held in Denver .
Read Winds of Change to stay informed about AISES students and professionals.
The following five are the AISES 2017 Professional of the Year Awardees
Brandon Polingyumptewa is the Blazing Flame Award winner

Polingyumptewa, from the Hopi Tribe, is a supply chain materials management analyst at The Boeing Company. This award's recipients are veteran trailblazers for indigenous people in STEM careers.
During over 20 years at Boeing, he has pushed to attract, recruit, and retain diverse top talent.  Polingyumptewa is lead planner for the P-8A Poseidon military aircraft program.The BS in Business Management degree holder from the University of Phoenix also worked on manufacturing quality assurance for the Apache Helicopter, F-A18 Hornet, AV-8 Harrier jump jet and other aircraft.
Gary Burnette won the Executive Excellence Award
Burnette is VP of Enterprise Data Integration at IBM and a member of the Cheroenhaka (Nottoway) Indian Tribe of Virginia.
The 33-year IBM employee leads "data monetization" related to merger and acquisition activities at Big Blue. He also created apps that improve productivity processes, and is an IBM subject matter expert.
Burnette, who is active in IBM's American Indian Diversity Council and other multi-cultural programs, has a BS in Computer Science with a business emphasis from Eastern Tennessee State University.
Thomas Reed is the Most Promising Engineer or Scientist

Reed from the Hopi Tribe is a Senior Electrical Engineer at Raytheon. He has received kudos for patent applications, research grants, papers, and inventions. The former teenage Eagle Scout's specialties include developing intellectual property and skill in power amplifier and switch limiter design.
He is active in the Raytheon American Indian Network, the AISES Chapter at the Massachusetts Institute of Technology, and varied charity groups.
Reed received both his PhD in Electrical and Computer Engineering and his BS in Electrical Engineering degrees from Brigham Young University. He was an intern at Sandia National Laboratories, and Cray, a super computer maker.
Virginia Hernandez won the AISES Technical Excellence Award
Hernandez is a principal member of the technical staff in Research and Design at Sandia National Laboratories, and a team lead in analysis of foreign nuclear weapon threats.
She volunteers with Sandia Lab's Dream Catchers Science and taught "concepts of physical science by making and analyzing peanut brittle."
Hernandez received chemistry and inorganic chemistry degrees from the University of Central Florida and Texas Tech University, respectively.
William Buffalo Tiger is the 2017 AISES Professional of the Year
Tiger is manager of General Motor's Lockport Plant. The New York facility manufactures heating and cooling systems for GM cars and trucks. He has over 1,000 employees and a near $150 million budget.
He earned his Bachelor's Degree in Mechanical Engineering at GM Institute—now Kettering University—and an MSE Operations Management Degree from Rensselaer Polytechnic Institute.
The Miccosukee Tribe of Indians of Florida member cofounded the GM Native American Cultural Network, and is an AISES Sequoyah Fellow. He host robotics competitions for Native American schools and communities and mentors new Native American employees on career opportunities.
Meet AISES and other First Nation professionals featured in STEMRules.com
The individuals below have many links to AISES. They also received BS through PhD degrees in disciplines including astronomy, biology, computer science, geology, engineering, and robotics, and work for public, private, and nonprofit groups or as entrepreneurs.
They hail from First Nations including Potawatomi, Navajo, Hopi, Blackfeet, Mohawk, and Hawaiian.
Sheenah Bryant studies the impact of space travel.

Bryant is a NASA Fellow in the Biomolecular PhD  program at  NASA Ames Research Center and Boise State University. She seeks "to identify the consequences of prolonged flight exposure on bone remodeling processes by studying how microgravity affects the biological activity of a protein coding gene."
She is a member of the Citizen Potawatomi Nation. It is one of three tribes that form the Three Fires Council, an alliance of the Potawatomi, Ojibwe, and the Ottawa Tribes.
In 2015, Bryant was one of thirteen students awarded a NASA Office of Education Minority University Research and Education Project Aeronautics and Advanced STEM Training and Research (ASTAR) Fellowship. Her BS in Physics is from Boise State University.
–
Why Franklin Dollar is surprised to be a professor.    
Dollar, an Assistant Professor of Physics and Astronomy in the School of Physical Sciences at University of California, Irvine uses some of the most powerful lasers developed. He says they enable him to research how intense light interacts with matter to form the fourth state of matter: plasma.
Dollar is a member of the Dry Creek Rancheria of Pomo Indians and says, that "by understanding and controlling these extreme and complicated interactions, compact sources of x-rays and particle beams are possible."
What surprised Dollar about his career? "Is that it was possible to make it to where I am! I  always thought of  professors as being much smarter and all knowing that it seemed  an impossibility that I could one day be one," he says.
Watch Frank Dollar AISES 2015 Most Promising Scientist
Franklin Dollar's Favorites
Apps: "These show how much portable power we have:" Shazam, Star Walk, a star gazing guide, Room Scan Pro which draws floor plans all by itself, and Garage Band.
Book, graphic novel, online anime or web series: XKCD "about Romance, Sarcasm, Math, and Language is one of the nerdiest webcomics around,."
Podcasts: Comedies like Judge John Hodgman or Bill Burr's Monday Morning Podcast.
Movie: The Martian.
Musical artists of the moment: SupaMan, a member of the Crow Nation and a Montana hip-hop star, has had a great year, as well as Kawehi. Follow: Supaman, and watch Kawehi cover Ramble On by Led Zeppelin.
Web site: Wikipedia, Google scholar, WolframAlpha, a Computational Knowledge Engine, and StackExchange, a Q and A site with a difference.
Dream job? I'm doing it.
–
Tianna Shaw ensures space flight medical safety.
Shaw is a project manager in the NASA Ames Research Center's Exploration Medical Capability Element. The 25-year NASA Ames veteran leads a multidisciplinary team that identifies, through ground developments and International Space Station demonstrations, ways to reduce reduce the risk of adverse health outcomes and decrements in performance due to inflight medical conditions.
Shaw grew up on the Hoopa Valley Indian Reservation in Northern California and is a member of the Yurok Tribe in Klamath, California.
She holds dual Bachelor's Degree in Biomedical and Electrical Engineering from the University of Southern California, and an MS degree in Biomedical Engineering from California State University, Sacramento.
–
Brandon Benallie Protects Computers/First Nations.

Benallie, in his consultancy, works on confidential and sensitive computer forensic, electronic discovery, malware analysis, and network security matters for private and public entities, state, tribal, federal, and foreign government, clients.
In his private life, he collaborates on problem-solving on behalf of Native Americans and other Indigenous peoples. In September 2016, Benallie travelled, with other Northern Arizona tribal members, to the Sacred Stone Camp on the edge of the Standing Rock Sioux reservation, in North Dakota, to protest against the Dakota Access Pipeline. Since 2013, he has been the Chief Information Security Officer for the Fort Defiance Indian Hospital Board.
From 2005 – 2012, Benallie, who rose to Director, Computer Forensics from Senior Computer Forensics Investigator, worked on over 400 computer forensic, electronic discovery, and network security cases for Lightstone Solutions. It is a computer forensics, research and private investigations firm.
In 2011, the SANS Institute, a cooperative research and education group, awarded Benallie with the SANS Lethal Forensicator Coin. It is given to individuals who "demonstrate exceptional talent, contributions, or helps to lead in the digital forensics profession and community.
Benallie has also been an EnCase® Certified Examiner since 2009. The EnCase® is one of the most difficult-to-obtain certifications, and Benallie, of Navajo and Hopi descent, is the first and only Native American to hold that credential.
He is also co-founder of For the People. It is an Indigenous grassroots movement to collect and distribute food and clothing victims of floods and fires in Navajo Territory
From 1998-1991, studied at the Institute for Advanced Study, in Princeton, NJ.
When not working, Benallie can listen to beautiful, and insightful music, sung by his wife, Radmilla Cody, a renowned performer and a former Miss Navajo Nation who is of Navajo and African American descent. Watch her videos.
–
Lee has a galaxy of celestial ideas and interests.
Lee, an Assistant Professor of Astronomy and Physics, and the Planetarium Director, at Saint Cloud State University, says, "I am an astronomer, an artist…a woman of color. I teach, do research, design & deliver community events, and have a flood of ideas."
As a child, she was told to pick one or the other – art or science. "It surprised me that I could do both…that the world really was big enough for someone who has two seemingly opposite passions. I am happy that I was stubborn and kept both fires burning."
What is the geekiest thing about her She says, "I love math and love finding patterns in the chaos." Lee who is Dakota-Sioux and Chinese from her Dad's side, and French, Irish and Native American, says that the non-geekiest thing about her is "I love riding fast on horseback over long distances."
She is also the director of the university's Native Skywatchers program. It, she says, melds her and Native Americans' view and reading of the cosmos with art and science that "breaks new ground in indigenous STEM."
[See Ojibwe and D(L)akota Star Maps.]
Her MA degree in Astrophysics is from Washington University, St. Louis. An MFA in Painting is from the Yale University School of Art. A BFA in Painting is from the University of Illinois, Champaign-Urban, and a BS degree in Applied Mathematics-Physics Emphasis from the University of California, Berkeley.
Favorites
App(s): Sky Guide: View Star Night or Day.
Book, graphic novel, online anime or web series: Wheel of Time, by R. Jordan.
Podcast(s): NPR's Science Friday.
Movie(s) recent or past: Star Wars, Star Trek.
Musical artist/group/song of the moment: Passenger, "Bloodstains" on the album- Flight of the Crow.
Dream job? "To make (Celestial) Art, Do Science (work on the Kepler Space Telescope science team), and Organize Meaningful, Relevant, Community Events about our human connection to the cosmos and our place in it all."
–
Sean Chung Was a Grey Hat. Now he's with MITRE.
Chung was unfamiliar with STEM, until as a University of Hawaii at Manoa (UH) student he opened a MySpace account. "I began editing the HTML, and things, and realized I liked code," he says.
The recipient of a BS in Computer Science was also introduced to cyber security. He joined the UH Grey Hats club, where students assumed black hat and white hat roles to analyze cyber defenses.
Now, Chung, a Senior Cyber Security Engineer at The MITRE Corporation, tests and evaluates the cyber defenses of government agencies. MITRE is a nonprofit that operates multiple federally funded research and development centers.
He says, "I have fun being on the MITRE [penetration testing] team, but it's not like on [the TV show] 'Mr. Robot', I was surprised by the amount of non-tech stuff that also happens."
Chung says the geeky thing about him is that he prefers to stay at home rather than going out with friends. He also lifts weights, and has been jogging semi-consistently.
As an undergraduate, Chung, who is 25 percent Native Hawaiian and also of Japanese and Chinese descent, says he was involved with AISES (American Indian Science and Engineering Society), and the UH Native Hawaiian Science & Engineering Mentorship Program.
Chung earned his MS in Computer Science and Systems at the University of Washington, and worked as an IT intern with Washington state's Snoqualmie Tribe. The internship was part of the CyberCorps Scholarship for Service program, which supported his living expenses. Chung is currently pursuing an MS in Systems Engineering at The Johns Hopkins University.
Chung's tips: Learn to communicate effectively and translate technical work into benefits and costs for clients. If interested in management, obtain business skills, and acquire broad knowledge to assist decision makers.
Follow DefCon, Black Hat, the Sophos blog, SANS, Tech Bytes, Security Bsides, and smaller events and general news.
Favorites:
Manga series: "Naruto", the Japanese manga series.
Social media: Chung's NetVibes Public page has feeds from a IT and cyber security sources. Otherwise, he says there is no "time for social media pretty much except Facebook."
TV: "Mr. Robot".
Dream job: I like doing what I do now. What's next doesn't matter as long as it is similar.
–
Daun Davids develops apps and helps women in tech.
Davids, who is from the Stockbridge-Munsee Community, Band of Mohican Indians, in Wisconsin, is multi-talented tech, and a technology evangelist to women.
As owner of Fort Collins, Colorado's Sky Woman Technology LLC, she provides Android App Development. Her apps available at Google Play include:
Since 2014, Davids has been co-leader of the Fort Collins chapter of Girl Develop It. The global group provides affordable and accessible programs to women who want to learn software development through mentorship and hands-on instruction.
Davids organizes classes, workshops and networking events for members in the chapter. She teaches introductory courses in HTML/CSS, Java and Android development, and networks with businesses for sponsorship and chapter support.
She earned her MS in Computational Sciences & Robotics (CSR) from South Dakota School of Mines and Technology, and her BS in Computer Science at the University of Wisconsin-Milwaukee. Davids is a member of the American Indian Science and Engineering Society.
Follow Davids on Twitter. Check out her STEM and family history slideshow.
–
Ken Cullings is a feet-on-the-ground space scientist.
Cullings is a Research Scientist in the Exobiology branch of NASA Ames Research Center. He says, "I work on evolutionary ecology in forest and hot springs ecosystems.  Specifically I ask questions about what microbes are in the system doing the work, how they got there, and how they evolved."
The Exobiolgy branch conducts interdisciplinary basic research in exobiology to understand pre-biotic chemistry, and the origin, evolution, distribution, and future of life in the Universe.
The PhD in Biology from the University of California at Berkeley was unprepared for one big thing on his career path. He says, "Even though science is about discovery, I've been surprised by how fixed scientists can be in their thinking."
Culling, a surfer, a Ready biker, and fly fisherman is a descendant of a member of the Blackfeet Tribe of Montana.
Favorite:
App(s): International navigation maps
Book, graphic novel, anime, or web series: X-Men
Social media: Facebook
Movie:  Just saw the remake of The Jungle Book and loved it.
Musical artist: Watch Bernard Allison rock the blues.
Web site(s): Surfline, for global surf reports.
Dream job: Anything that's pure research
–
 Allena Muskett is one person with four jobs.
Muskett, a member of the Navajo Nation, is an organized professional.  In 2015, she was given, by the Albuquerque, New Mexico office of Smith Engineering Company (SEC), four titles: Vice President, Water and Wastewater Team Leader, Project Manager, and Environmental Engineer.
The Licensed Professional Environmental Engineer, in New Mexico and Arizona, is a design and construction phase expert on water and wastewater infrastructure projects. Her portfolio also includes managing client relations and doing marketing and business development of public and private clients.
The US Army Reserve veteran served as a Petroleum Distribution Specialist, from 2000 to 2006, and was hired in 2004 by the Smith Engineering Company. It was only a few months after she graduated with a BS in Environmental Engineering from the New Mexico Institute of Mining and Technology.
Always aware of her heritage, as a student Muskett interned with the Navajo Environmental Protection Agency, and since adulthood has worked as a professional on multiple projects on, or that impact ,the Navajo Nation.
When she is not working, however, Muskett would rather run, read, hunt, fish, or hike.
–
Luke Hullinger is a new environmental engineer.
Hullinger's academic history leads to his hiring as an environmental engineer in training by the US Environmental Protection Agency at its Greater Chicago office.
Between 2010 and 2014, the member of the Southern Ute Indian Tribe was studying for his BS in Engineering Physics at Fort Lewis College in Durango, Colorado, and serving as the school's American Indian Science and Engineering Chapter President.
[Watch A day in the life of Luke as a student.]
During those years, Hullinger spent one summer as a Land Surveying Intern for the Bureau of Land Management, in the US Department of the Interior, another as a Research Intern at the University of Wisconsin, Madison studying moisture variation and varying humidity.
In the summer before he joined the Environmental Protection Agency, he worked as an Air Quality Compliance Specialist Intern for the Southern Ute Indian Tribe analyzing data of pollution emitting entities on the Southern Ute Indian Reservation.
–
Jihan Gearon and the Black Mesa Water Coalition.
Gearon, Executive Director of the Black Mesa Water Coalition (BMWC), has long campaigned for social change, best environmental policies, and a greener planet.
The group, based in Flagstaff, AZ, is dedicated to "transitioning out of extreme energy in the form of coal fired power plants and into clean, renewable sources of energy and jobs."
Young Navajo Nation and Hopi Nation members founded the BMWC in 2001 to protest the use of groundwater and aquifers by Peabody Western Coal Company.
The group's major victory was the 2005 closing of the Mohave Generating Station in Laughlin, Nevada. It was a coal slurry pipeline that Gearon says was "a ridiculous use of water."
In 2011, Black Mesa hired Gearon, an enrolled member of the Navajo Nation to manage administrative, public, and board of director relations.
Prior to the BMWC, she worked for the Indigenous Environmental Network, the Environmental Justice & Climate Change Initiative, and the Center for Story-Based Strategy, which uses the power of narratives to harness social change.
What BMWC does. Follow on Twitter, Facebook.
Gearon, who is black and Navajo is profiled on I love Ancestry, a site about Afro Natives.
–
Steven D. McKie is Helping Bitcoin Change the World
McKie, a French-Canadian member of the Abenaki First Nation, which has a reservation in Odanak, Quebec, Canada, is a busy and optimistic man when it comes to Bitcoin and Blockchain-based technologies.
[Watch a video about the Odanak Reserve.]
He works in Business Development/Product/Operation at Yours.network. It calls itself a new "social platform where content is monetized, but built entirely on bitcoin."
The company's goal is "be one of the first consumer facing applications that truly showcases the advantages of micro-payments at scale.
McKie is also in Business Development/Content Management at Purse.io, which says it's "The world's largest Marketplace for Bitcoin."
McKie earned his BS in Business Administration, Information Systems and Technology at Old Dominion University, where he was the Charter Founder of the student Native American Inter-Tribal Association.
Follow McKie on Twitter.
–
Wai Allen studies hard to help Native American tribes.
 Allen welcomes the pressure of a graduate student pursuing her MS Degree in Geology at Purdue, because she has important goal to achieve. She says that, "Aside from my research interests, I am very interested in natural resource policies that affect the mineral rights of Native American tribes."
The Navajo Nation member's research is on basin development and evolution using detrital-zircon geochronology in Alaska.
A geological paper states that the mixture of detrital zircons in sandstone, precise mineral age identification, and the ability to analyze much "from a single sandstone sample has made detrital-zircon geochronology a powerful tool in provenance studies."
Allen earned a BS in Geology-Environmental Option at Fort Lewis College, and is a member of the American Indian Science and Engineering Society.
–
April Tinhorn's insight helps her STEM business.
Tinhorn is the owner of Tinhorn Consulting, a Phoenix, AZ area, integrated marketing and consulting firm.
In 2005, Tinhorn, a member of American Indian Science & Engineering Society, founded a company that "understands Indian Country" and can share a group's story using cultural strategic planning, digital storytelling, web development, and training services.
All of which was terrifying. "I took a huge risk by leaving a lucrative salaried ​position to start my own company. Carpe diem! [Seize the day]," Tinhorn says.
She is of Hualapai Tribe, Navajo Nation, and Chinese descent, and a member of the American Indian Chamber of Commerce of Arizona.
Before Tinhorn became an entrepreneur, she earned an MS in Computer Science from The Johns Hopkins University and a BS, in Computer Science from Arizona State University and worked in different sectors.
She was a National Security Agency programmer, an IBM software engineer, a web master at the Phoenix Area Indian Health Service, and Deputy Executive Director of the Native Learning Center for the Seminole Tribe of Florida.
What's the geekiest thing about Tinhorn? She makes lists for everything. What's her non-geeky thing? She says, "For my creative juices to flow, I need a pen that not only feels comfortable in my hand, but is also colorful, and paper. Beginning the process directly on my laptop blocks me.​"
Favorites
Apps: ​Pandora, Yelp, Cartwheel, for mobile savings, and Wunderlist: to keep your life in sync.
TV series: ​Project Runway All-Stars, Scandal, Blackish, and Fresh Off the Boat.  I used to be an avid reader​ but that was before I started the business and had my daughter, Zoey.
Twitter: For my business, I keep up with Facebook and Instagram.
Movie: ​Mother's Day with Julia Roberts, Jennifer Aniston, and Kate Hudson. See trailer.
Musical artist: ​You can't go wrong with the Queen of Hip-Hop Soul, Ms. Mary J. Blige.
Web site: ​Google.com, my personal Oracle that answers all questions.​
Dream job: ​Owning Tinhorn Consulting!
–
Dennis Dyer keeps the Citizen Potawatomi Nation connected.
Dyer is Chief Information Officer and Chief Technology Officer for the Citizen Potawatomi Nation, a sovereign tribal government based in Shawnee Oklahoma. Of Delaware Nation descent, Dyer directs the tribe's managers, and pushes for full broadband coverage for all members.
He studied Computer Science at Oklahoma Baptist University, and is involved in several First Nation organizations. Dyer is a liaison for the National Congress of American Indians with the First Responder Network Authority (FirstNet) created to connect the public safety community. The US Air Force Veteran has been president of the Oklahoma Native American Technology Council since 2012, and is a board member of TribalNet.The motto and goal of the group, which is a resource for technology professionals in the Native American industry, is Bringing Technology and Tribes Together.
For nearly 40 years, Dyer has also been a singer, songwriter, producer, and manager with Red River Entertainment.
–
Kandi Mossett wants energy projects off sacred land.
Mossett, who is of Mandan, Hidatsa, and Arikara Nation lineage, is the lead organizer for the Indigenous Environmental Network's (IEN) Native Energy, and Climate Justice campaigns.
The former resists energy companies' attempts to develop projects in or near First Nation land. The latter protests against fossil-based earth, air, and ocean pollution. This work Mossett says "is exactly what I wanted and was destined to do, though I didn't know exactly what that was when I was younger."
The IEN, based in Bemidji, MN, was formed in 1990 by grassroots indigenous peoples and individuals to address environmental and economic justice issues.
Mossett received both her MS in Environmental Management and BS in Natural Resource and Park Management from the University of North Dakota
Favorites
Apps: I honestly dislike technology. Ok, to give an answer I'm going to say Google Maps, so I don't get lost in cities, I'm a small town girl, so that has helped me out immensely!
Books: I like Alexie Sherman. Editor's note: Sherman is a Spokane/Coeur d'Alene Indian, and a National Book Award Winner for The Lone Ranger and Tonto Fistfight in Heaven, and author of other novels and short story collections.
Movies: The Notebook, The Princess Bride, Grumpy Old Men, and Grumpier Old Men.  These are movies I never tire of. There are others but I'll keep you guessing.
Music: I just love music. I like soft rock, country, rap, classical, and oldies.
Web site: An Indigenous Environmental Network project: Indigenous Rising. The site's philosophy is that "Indigenous Peoples are Rising Up in Solidarity to defend our Rights as Indigenous Peoples; to protect the Sacredness of, the Territorial Integrity of, and Rights of (Grandmother) Mother Earth; and the Rights of Future Generations."
Dream job: "I'm doing my dream job.  Above this would be to work myself out of having to do this job. All I would do is tend my gardens and take care of my family off the grid. How nice that would be.  In truth, I would love to be working at home with my tribes making it a better place for people to be, making the rez I grew up on a truly sovereign, happy place. I love to hike, be outside, read and think I'm doing a pretty good job being a momma to my 2 year old daughter :)"