Photo above from Roadtrip Nation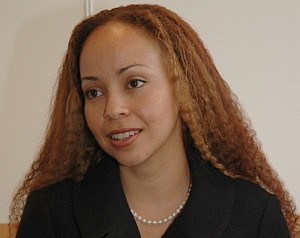 Window Snyder is a rock star and a caring person
On July 9, 2018 Window Snyder became Chief Software Security Officer, Vice President, and General Manager in Intel's Platform Security Division.
Snyder's cyber security, and coding expertise, is deep. Both her Kenyan mother and American father were programmers. Her mom taught her daughter BASIC when Window was five-years-old. Curiosity led Snyder from a love of math and computer science to cryptography and then cyber security.
Until recently, Snyder was Chief Security Officer at Fastly, a cloud computing service provider. For five years, she developed and implemented security and privacy strategy for Apple's iOS and Mac OS.
Watch Snyder in many great Roadtrip Nation videos
Roadtrip Nation helps answer: "what do I do with my life?"
The former Boston College student was "Chief Security Something-or-Other"—her words—at The Mozilla Corp., and also worked at Microsoft as a Senior Security Strategist.
Window rocks in other ways
In 2010, I wrote Spelman College Students Win National Mobile App Competition for TheRoot.com. While reporting, I found out that two Spelman women, Jonecia Keels and Jazmine Miller, had attended an Apple app design camp.
I told Snyder, who was at Apple at the time, about the Spelman students and she contacted them to cheer their win and encourage them on their chosen paths.
Jonecia Keels
Jonecia Keels is now a Senior Software Engineer at Apple working on the Mobile Apps Team and on the Apple store app. Keels was a student in the Spelman College Dual-Degree Engineering program and through it earned a BS in Computer Engineering from Columbia University and her BS in Computer Science from Spelman College.
Jazmine Miller
Jazmine Miller is a Software Engineer at Catavolt, Inc., a mobile software maker. Previously she was an iOS developer at Robert Half Technology. Miller earned her BS in Computer Science from Spelman College.
What Snyder will do at Intel
Doug Fisher, Intel's top Software and Services Group executive, wrote in a Monday blog post, that Snyder will be "Driving partnerships with the operating system and security ecosystem to ensure we are better informed on the growing complexity of attacks and to help guide our approach and response."