Southern University College of Engineering, above, Is Ready to Help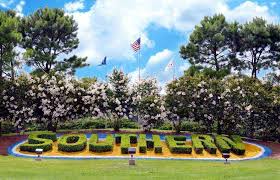 When an unprecedented flood hit Baton Rouge, Louisiana's state capital, Historically Black Southern University at Baton Rouge (SUBR) responded with assistance. Fortunately, SUBR says its "campuses and the surrounding community did not flood or sustain any damage."
However, Ray L. Belton, the President-Chancellor of Southern University (SU) and A&M College System said many SUBR faculty, staff, and students and their possessions were harmed by the flooding. An SU Flood Relief Fund was established quickly to aid University students and employees impacted. Donations may be made here.
[Visit The STEMRules List of Top Historically-Black Engineering Programs]
SUBR provided shelter for more than 200 flood evacuees initially, and SU faculty, staff, students, and alumni continue to volunteer and provide supplies and donations during the clean up.
SUBR College of Engineering prepares students
Habib P. Mohamadian, the Dean of the SUBR College of Engineering and Computer Science (CECS), told STEM Rules that Baton Rouge's low-lying poorest neighborhoods were among those most severely impacted in different ways by the rising water.
The dean said those areas suffered water damage, the destruction of homes and businesses, and the disabling of cars. The latter of which prevented residents from traveling to work as the water receded. Two major highways were also closed, as their infrastructure was not built to keep out or flush out the flood.
SUBR Engineering
Mohamadian says that the roughly 120 students in the Department of Civil and Environmental Engineering are being taught how to prepare for and respond to events like the recent event.
Students studying civil engineering are taught about the interconnection of roads, buildings, and sources, uses, and control of water. Acquiring such knowledge makes students attractive to the US Army Corps of Engineers which has been a source of internships.
Among the many areas, that the roughly 20 students in Environmental Engineering, which does not have a degree program, learn about are flood consequences. For example, the swiftness with which buildings with mold issues must be cleaned up.
The SUBR civil, electrical, and mechanical engineering programs are accredited by the Engineering  Accreditation Commission of ABET, http://www.abet.org.
SUBR student engineering organizations
The American Society of Civil Engineers (ASCE) provides free membership and a variety of resources including scholarships, fellowships, and Career Connections.
The National Society of Black Engineers (NSBE) also provides information to students about scholarships, job fairs, and conferences.
SUBR Contact:
College of Engineering and CS
Southern University and A&M College
PBS Pinchback Hall
Baton Rouge, LA 70813
Phone: (225) 771-5290